June 27, 2021 – Being Good Ancestors, Pt III (The Prodigal's Inheritance)
ORDER OF WORSHIP
Sunday, June 27, 2021
Whoever you are, wherever you may be on life's journey,
you are welcome here.
CALL AND INVOCATION
Psalm 24, adapted
The earth is the Lord's, and the fullness thereof;
the world, and all who dwell therein.
For God has founded it upon the seas,
and established it upon the floods.
Who shall ascend into the hill of the Holy One?
or who shall stand in God's holy place?
Let this be the generation of them that seek You;
O Beloved, may your face shine upon us!
HYMN 
All Creatures of our God and King
Karen Smith Emerson, soloist; Tom Pousont, organ
READING & REFLECTION
Inheritance
Rev. Liza B. Knapp
PRAYER OF CONFESSION
Wendell Berry, adapted
It is the destruction of the world
in our own lives that drives us
half insane, and more than half.
To destroy that which we were given
in trust: how will we bear it?
It is our own bodies that we give
to be broken, our bodies
existing before and after us
in clod and cloud, worm and tree,
that we, driving or driven, despise
in our greed to live, our haste
to die. 
To have lost, wantonly,
the ancient forests, the vast grasslands
is our madness, the presence
in our very bodies of our grief.
(A time for silence follows)
HYMN
We cannot Own the Sunlit Skies
Sung by the virtual choir of Payton Park UCC, Belmont, MA
PRAYERS OF THE PEOPLE
June 27, 2021
Sally Laubin
OFFERING
To make a donation to the First Church of Deerfield  (aka "The Brick Church," aka "The Brick-less Church"), click here. 
DOXOLOGY
Thomas Pousont, organ
BLESSING OF GIFTS
All good gifts around us come from you,
Creator, Wellspring, Ground of Being.
May we, your people, made of earth and clay,
become good gifts to one another;
as you intended us to be.
Bless these gifts;
bless those who give
and bless those who receive
with abundant life.
By all your holy names we pray,
Amen.
BENEDICTION
May the road rise up to meet you,
may the wind be always at your back,
may the sun shine warm on your face,
may the rain fall soft on your fields.
May God hold us tenderly in the palm of Her hand,
and may we hold God's creation tenderly in ours.
POSTLUDE HYMN
What a wonderful world
Sung by Louis Armstrong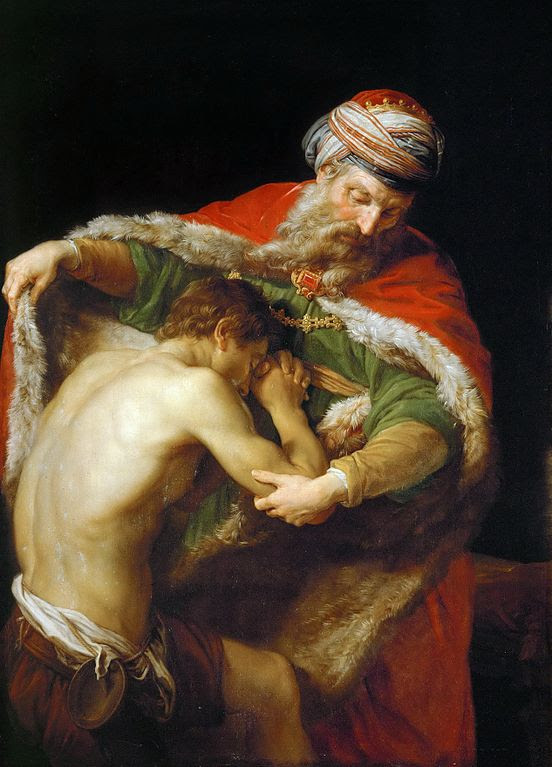 image: The Prodigal Son, by Pompeo Batoni