May 16, 2021 (Ascension)
THE FIRST CHURCH OF DEERFIELD
"The Brick Church"  / "The Brickless Church"
Good morning (or afternoon, or evening) and welcome to worship. The Brick Church Meeting House remains closed due to coronavirus response measures, and so we invite you to worship with us here — in the Brickless Church.
Whoever you are, wherever you may be (figuratively or literally), you are welcome here.
ORDER OF WORSHIP
Sunday, May 16,  2021
7th Sunday of Eastertide / Ascension Sunday
PRELUDE
Premier Kyrie     François Couperin
Dr. Thomas Pousont, organ
CALL TO WORSHIP
Welcome and Call to Worship
Rev. Liza B. Knapp
HYMN
Hymn #211  Crown Him with Many Crowns (Verses 1-3)
Thomas Pousont, vocalist
AFFIRMATION
(Each week during Eastertide, we offer an affirmation from a different part of our wider tradition. This week's affirmation comes from the Iona Community of Scotland.)
With the whole church
we affirm that we are made in God's image,
befriended by Christ,
empowered by the Spirit.
With people everywhere
we affirm God's goodness at the heart of humanity,
planted more deeply than all that is wrong.
With all creation
we celebrate the miracle and wonder of life,
the unfolding purposes of God,
forever at work in ourselves and the world.
PAUSE FOR CONTEMPLATION
rest here in openness,
for a moment, or more
READING
The Acts of the Apostles 1:1-11
read by Liza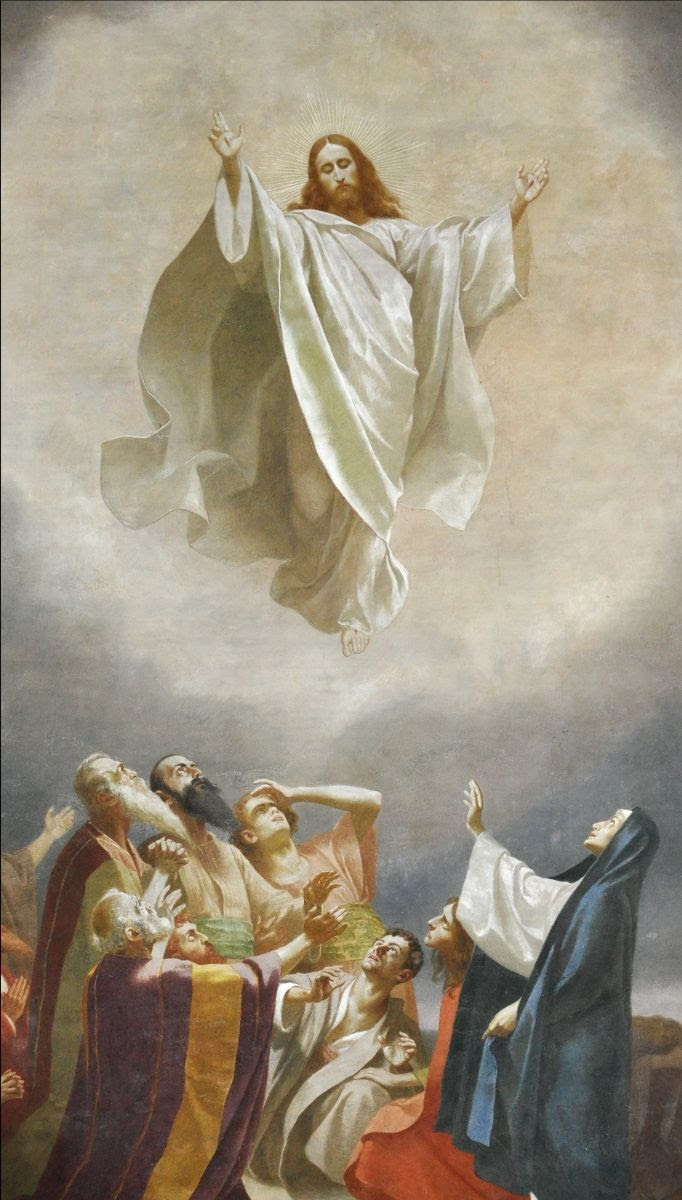 SERMON
Heads in the Clouds
Rev. Knapp
ANTHEM
Nobody Knows the Trouble I've Seen    African-American Spiritual  
Choral Scholar Christopher Gergis, bass
PRAYERS OF THE WORLD
(Rabbi Ethan Witkovsky of the Park Avenue Synagogue, NYC)
We pray that our prayers change us and the world.
We pray for the safety of Israelis and Palestinians.
We pray that both sides find a way to forge a lasting peace.
We pray that no one with the power to save life stands idly by.
Amen
PRAYERS OF THE PEOPLE
May 16, 2021
shared by Mary Dancer
ANTHEM
Steal Away       African-American Spiritual 
Choral Scholar Stephen Morris, baritone
OFFERING
"If anyone has the world's goods and sees their sibling in need, yet closes their hand, how does God's love abide in them? Little children, let us love not in word or speech but in deed and in truth."
1st Letter of John 3:17-18
(To make a donation to the ministries of First Church of Deerfield, see Announcements below.)
DEDICATION
May these gifts
be a sign of our gratitude,
that you are steadfast in your love;
and a sign of our intent,
to be more steadfast in ours.
Amen.
HYMN
Hymn #232   Joyful, Joyful We Adore You (Verses 1,2, & 4)
Karen Smith Emerson & Joanne Potee, vocalists
BLESSING
Benediction May 16, 2021
POSTLUDE
Dialogue    François Couperin
ANNOUNCEMENTS
BIG NEWS
!!!NEXT SUNDAY!!!
PENTECOST, IN-PERSON
Outdoors at PVMA
Sunday. May 23rd, at 10 am
(weather permitting)
Friends, it has been over a year since we gathered in person for worship. Now, thanks to the dual blessings of warm weather and effective vaccines, we are ready at last for a reunion of our beloved community! Join us for a safely distanced, in-person, outdoor worship service, May 23rd at 10 am. (Note: a digital worship service will also be available as usual, for those unable to attend — and in case of rain!)
We will gather on the west lawn of the Pocumtuck Valley Memorial Association. (Enter from their parking lot on Memorial Street in Old Deerfield — just follow the red balloons!) Socially-distanced seating will be provided; bring a cushion for comfort if you wish. Wear sturdy shoes and bring your cane if needed, as we will be on the grass. MASKS ARE REQUIRED. There will be no live singing at this service, but we may hum along to music specially recorded for us by Tom Pousont.
Questions? Concerns? Contact Liza or Mary D.
*******
BE A PART OF OUR MINISTRY
If you have found spiritual sustenance at the Brick Church (or the Brickless Church!), and you would like to be part of our ministry and mission, we hope you will consider making a donation or pledge in support to the First Church of Deerfield.
or send check to: The First Church of Deerfield, P.O. Box 276, 71 Old Main Street, Deerfield, MA 01342)
*******
The First Church of Deerfield
an inclusive, inquisitive congregation of
the United Church of Christ
and the Unitarian Universalist Association
Rev. Liza B. Knapp, Pastor
deerfieldpastor@gmail.com
Dr. Thomas Pousont, Director of Music Ministry
Tom Mershon, Sexton
Pat Auchard, Office Administrator
office@firstchurchofdeerfield.org.
Ann Hallstein, Pastor Emerita
If you wish to make a donation in support of our ministry,
text "GIVE" to (413) 307-3730 or click below:
https://fcd.breezechms.com/give/online.